Black Quantum Futurism
More Info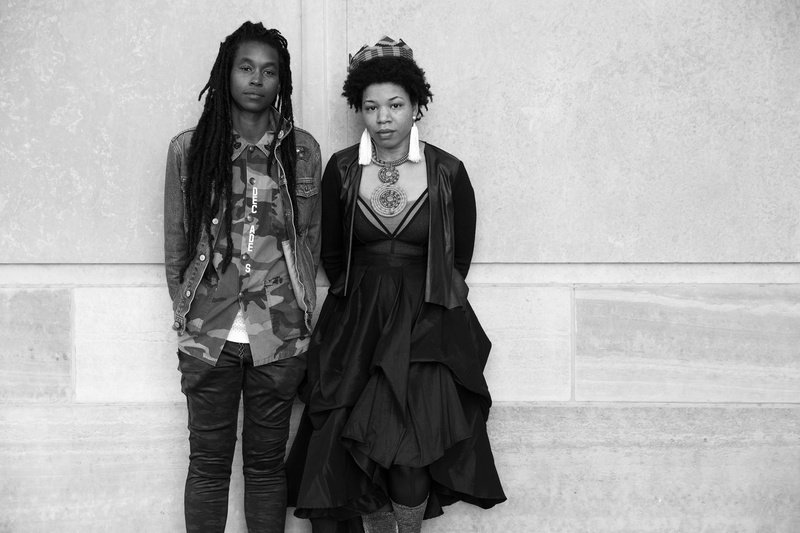 Black Quantum Futurism (BQF), the interdisciplinary creative practice of Camae Ayewa and Rasheedah Phillips, weaves quantum physics, Afrofuturism, and Afrodiasporic concepts of time, ritual, text, and sound to present innovative tools for escaping negative temporal loops, oppression vortexes, and the digital matrix. BQF has created a number of community-based projects, performances, experimental music projects, installations, workshops, books, short films, and zines, including the award-winning Community Futures Lab. BQF is a Velocity Fund grantee (2018), a Solitude × ZKM web resident (2018), a Center for Emerging Visual Artists Fellow (2017), a Pew Fellow (2017), a Blade of Grass Fellow (2016), and an artist-in-residence at West Philadelphia Neighborhood Time Exchange (2015). BQF has presented, exhibited, and performed at such venues as Red Bull Arts, New York; Serpentine Gallery, London; Philadelphia Museum of Art; Open Engagement at MoMA PS1, Long Island City, New York; Bergen Kunsthall, Norway; Le Gaîté Lyrique, Paris; and Squeaky Wheel Film & Media Art Center, Buffalo.

Established 2015, Philadelphia, USA
Biennial Project
Community Futures Lab, 2019
Mixed-media installation

Commissioned by the 2019 Chicago Architecture Biennial

Black Quantum Futurism, a collaboration between Camae Ayewa and Rasheedah Phillips, launched its first Community Futures Lab—a community space, gallery, resource library, and workspace—in the Sharswood neighborhood of north Philadelphia in 2016. Over the course of the Chicago Architecture Biennial they will create a new space, both personal and communal, for sharing stories of the past and visions for a collective future. This interactive installation encourages Chicago residents and visitors to offer personal accounts of housing displacement and belonging through oral recordings, art making, and public debates on housing design and policy. The aspiration is to create a safe space for imagining and testing ideas around community sustainability, housing justice, resistance, and resilience for disenfranchised communities. Community Futures Lab will be consistently activated throughout the Biennial, weaving together the voices and realities of Chicago via crowdsourced discussions on everything from quantum physics to Afrofuturism and Afro-diasporic concepts of time, ritual, text, and sound.