Learning Initiatives
About
Learning Initiatives at the Chicago Architecture Biennial provide free educational programming to learners of all ages as a way to promote active exploration of the built environment and empower audiences to view architecture and design as tools for change. We aim to:
–Facilitate meaningful and ongoing engagements with schools, community organizations, universities, museums, and other cultural institutions
–Encourage connections between Biennial content and local topics and communities
–Reach students from populations historically underrepresented in architecture; provide opportunities for co-learning between professionals and the general public; and engage with learners of all ages and from a diversity of perspectives 

Join our mailing list to stay in touch about learning opportunities that may be of interest to you!
Signature Education Partner
The Chicago Architecture Center has been the Biennial's Signature Education Partner since 2015. Through this partnership, we are able to broaden the reach of our educational programming for youth and families and support educators in exploring the Biennial, both through visits to the Chicago Cultural Center and in their classrooms.
Visit the 
Chicago Architecture Center
website for information.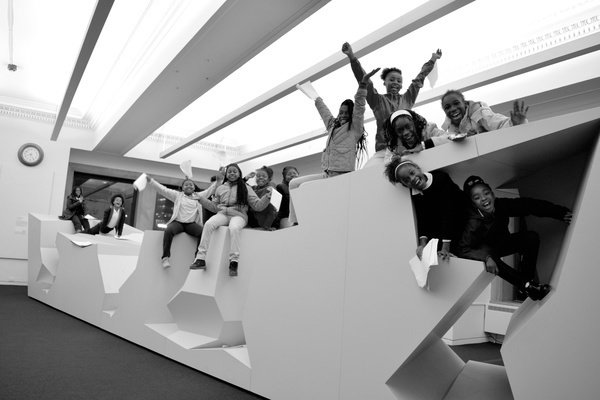 For Teachers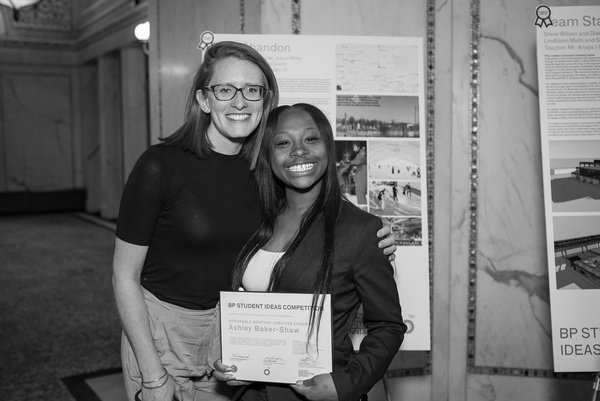 Teacher Trainings
Together, the Chicago Architecture Center and the Biennial conducted professional development trainings for educators from local schools, universities, and community organizations to familiarize participants with how to use the Biennial to support teaching and learning.
Guided Field Trips
Chicago Architecture Center Education Guides led 90-minute interactive tours of the Biennial's primary exhibition at the Chicago Cultural Center each Tuesday through Friday for the duration of the Biennial. Free transportation by bus was available to qualifying schools.

Self-Guided Visit
Groups wishing to attend the Biennial for a self-guided visit were greeted by a Biennial representative for an introduction to the space and the exhibit. Groups were supplied with educational materials and a recommended tour route prior to their visit.
For Students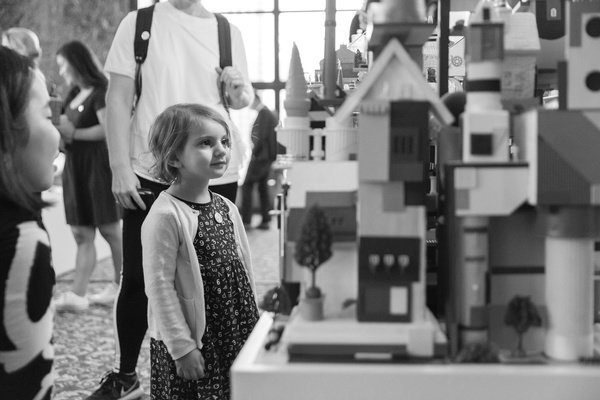 Community Festival Days
Two community festival days at Navy Pier and Garfield Park Conservatory encouraged families to visit the Biennial and introduced architecture and design themes to 489 children and family members through age-appropriate activities.
Youth Studios
2019 Youth Studio Partners:
archKIDecture
The Available City
BUILD, Inc. with LBBA Labs
Bustle 5K
Chicago Arts Partnership in Education
Chicago Mobile Makers
Design Museum of Chicago with Norman Teague
NEXT.cc Designopedia
Plant Chicago
SOILED
Space Lab with DLR Group
Territory NFP
Young People's Guide
An illustrated Young People's Guide provided an accessible overview of the Biennial and select projects along with discussion prompts and activities. Throughout the course of the Biennial, Young People's Guides were distributed to youth and family audiences at the Chicago Cultural Center. Featuring illustrations by
Molly Anne Bishop
. View the guide in 
English
 or 
Spanish
.
BP Student Ideas Competition
The Fall 2019 BP Student Ideas Competition ran from September 19 through December 6. The competition, presented in partnership with the Chicago Architecture Center, asked young people to design sites for community dialogue. For more information on the competition and to see winning projects, visit our
competition page
.
Teen Ambassador Program
The Chicago Architecture Center recruited and trained 20 teens from 18 high schools to serve as interpretive tour guides onsite at the Chicago Cultural Center during weekends and school holidays. Teen ambassadors also met two days a week after school to develop professional skills and work on collaborative design projects.
Youth and Family Programs
Each Saturday the Biennial provided drop-in activities for families at the Chicago Cultural Center. 956 visitors enjoyed 13 youth and family programs including model-making activities, scavenger hunts, holiday gingerbread workshops, family read-alouds, and more. Family program partners included
archKIDecture
,
Chicago Mobile Makers
, and
SOILED Magazine
.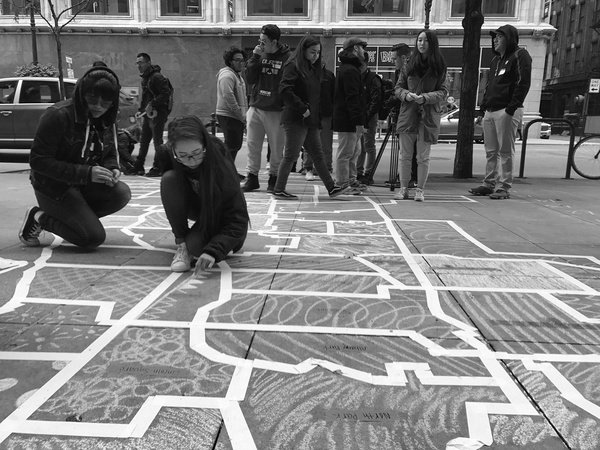 Pin-Up Wall
October 7 - October 27
BP Student Ideas Competition
Winning submissions from our spring 2019 student competition responding to the question: How would you transform a vacant or underused space in your community?  

October 28 - November 10
Onceuponascrapers
Selections from the newest edition of SOILED Magazine Onceuponascrapers, a collection of illustrated architectural children's stories akin to "picture books" that narrate contemporary ideas about architecture and the built environment.

November 11 - November 24
Our Great Great Wall
"Our wall does not divide but congregates by recognizing diversity as the building blocks of beauty."
Illinois Institute of Technology, College of Architecture
Project Lead: Jennifer Park
Student team: Arshia Dizna, Caleb Schemmel, Hiram Torres, Kaitlin Weishaar, Marcela Teixeira Pereira, Semra Defterali, Seniha Ozturk, Yun Woo Kim

November 25 - December 7
A Day in the Studio with Territory
Territory presents outcomes from their Biennial Youth Studio program A Day in the Studio with Territory. During this workshop, Territory shared the design process they use to re-imagine and re-claim public spaces in our communities. This teen-led immersive workshop presented new tools and insights into community engaged, youth-led design.

December 8 - December 15
The Available City - CCA Academy PermaPark
Outcomes from a four part workshop with CCA Academy students that enabled them to think about designs for a gathering space that the students will help construct in the Spring. The workshops are part of the larger The Available City - North Lawndale project, an exposition planned for July-October 2020 that examines the role that collective space can have in the city today.

December 16 - December 21
A City Runs Through It
This pin-up is the outcome of the A City Runs Through It Biennial Youth Studio hosted by NEXT.cc. Looking to the future, students imagined an ecopolis that coexists with larger earth, energy, water and food systems in a circular metabolism.

December 22 - January 5
BP Student Ideas Competition
Winning submissions from our fall 2019 student competition responding to the promp: Design a safe community space where young people can share ideas and take action on a local or global issue.